Solo passion project

Jan 2020
Bridge App


We help you to connect with your family more often
The Challenge
Virtual communication for some families is more difficult than for others.

There are many generic chat apps such as Whatsapp, Kakao talk, iMessage, but none of them were specialising in improving communication within intergenerational families.
The Outcome
I wanted to design an app focused on improving family communications.

A chat app designed just for families—communicate more fluently and grow closer together.

The technology itself can't bond us stronger, but certainly, we can add more human aspects to it.
Understanding how we communicate
How many people think that the current way of communicating can be improved?
I interviewed 12 people in total from different cultural and age background to find out how they communicate with their families.

From these interviews, I found out some families communicated better than the others. I wanted to find out why and how some families are more successful in communicating, and what we could learn from them.
User problems and app problems
The existing apps don't encourage families to talk
While we used our digital devices to communicate with our loved ones, there were clear limitations to the product :
1.

"It is hard for me to find the right time to call them — calculating the time difference and knowing their availabilities."
2.
"Some of my family members are close-minded and stubborn."
3.
"The conversations are quite repetitive, so often we run out of topics to talk about."
1.
How can we know when is the best time to call our family?
2.
Is there a way we can talk about any topic and avoid conflict?
3.
How can we have more exciting topics when communicating with our families?






Exploring opportunity area 1
How can we know when is the best time to call our family?
One of the reasons why people were hesitant to call their family members more often was that they weren't sure of their availabilities.

Nowadays we live in different time zones, work inconsistent hours, and there are more factors that we need to consider. How can we find a way to know your family members' availability more easily?

Solution ideation
Which idea is solving the user pain point most effectively?
After understanding the pain points from different generations, I drafted 3 wireframes and conducted 12 interviews:
Option C was the most popular from the interviews (10 out of 12 picked it as the most effective).
More interviews and user feedback


Design variations to execute the idea in the best way


Having chosen a lo-fi prototype, I next created several mid-fi options and conducted some more interviews.
"When my family members availability aligns, I wish would get a notification so I could have a group call with them"
Young Cho, 59
Check point and final design
Things that I considered

Usability




Is the design intuitive?

Inclusive design
Can less tech savvy users use my product?
Empathetic
Am I understanding peoples' needs?
Desirability
Do users want to use my product?

Failure and learning point
How to design a more inclusive app for less tech-savvy users
A few of my elderly interviewees mentioned that they often use tablets instead of mobile phones to connect with their family. Hence, the mobile phone designs that I showed them during the interview were still too intricate for them.

100%

of the elderly users said they would prefer using the tablet-friendly UI product.
Solutions for opportunity area 2 and 3
More fun additional features of the app




There are more additional features to help your communitcation with your family smoother. Contact me if you're curious︎︎︎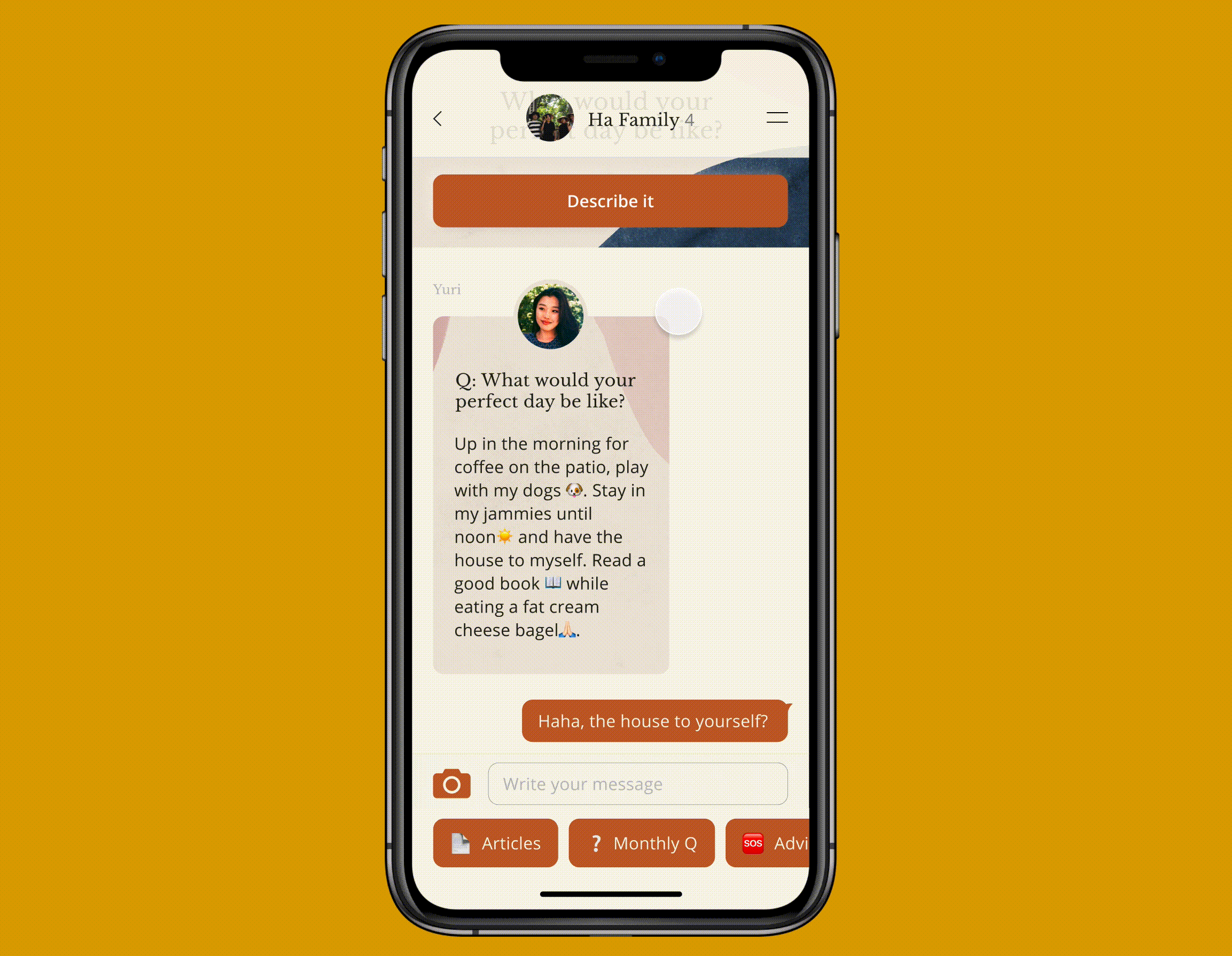 Every month, the app will send a question and the family can share each others answers. Discover new stories that you never knew about your family and grow closer together.



8 out of 12


of the users (age 20 - 45) said they don't know much about their parents or grandparents.
Don't feel bad because you often forget to call your family. We will send you friendly reminders to call your family more regularly.
6 out of 12


of the users (age 20 - 45) said they would like to set a reminder to contact their families.
Share things that you wish your family knew better to make your conversation smoother.


7 out of 12
users they're willing to communicate more often with other family members if they could discuss about wider topics (LGBTQ, Sexism. using computer/smartphone and etc)
I have a lot of interest 👀 in my surroundings. This shows up best in the portfolio, where the majority of my projects were inspired by little things around me.
---